CYBERSPACE, PUBLICATIONS ON INTERNATIONAL RELATIONS AND MORE NEED FOR MORE THEORY
Keywords:
Cyperspace, academic publications, international relations publications, need for international theory
Abstract
In almost all articles, books and sorts of other academic works published in recent times are intensively used cyberspace sources such as internet, social media, news channels. While great majority of newly produced academic publications are issued on the internet, others already in print are increasingly turning to internet publication. There is also no need to mention that most people have access to books, newspapers, journals on internet or similar electronic resources to obtain information and comments. This is a novel situation for all academic disciplines. It is generating not only many advantages and risks in producing more academic publications than before, but also negative consequences for the development, quality and effectiveness of academic disciplines. Whereas cyberspace has made academic publications easier, quicker and more transparent and visible, it has also created different sorts of problems such as inspection, ethics and most importantly accumulation of knowledge. This paper, looking at these points from the perspective of International Relations discipline and underlining the problems of discontinuity, rupture, mess, and most importantly poorness of accumulative knowledge in those publications made by the help of cyberspace, argues that there is more need to use more theory or theoretical perspectives for analyzing and understanding International Relations. As far as international relations publications are concerned, especially in those articles which I/we read in recent times tens and hundreds of cyberspace resources are used, but even those articles on the same or relevant topics are written without reference to and cut off from each other. They have similar or same arguments and points irrespective of each other, and most importantly, being conjunctural, populist and fashionable. When looked at those journals and publications using cyberspace published in Turkey, their basic problems can be classified into three groups: 1) Wording, method, and code of writing,
2) Reliability, accessibility, and testability of the references used from cyberspace,
3) The content, data and theory deficiencies.
Of these, I believe and argue that the most important one is lack of enough use of theory. Consequently here I will try to show how the use of theory can help revolve these problems in a few points without dealing with the questions of what theory means and how it is made.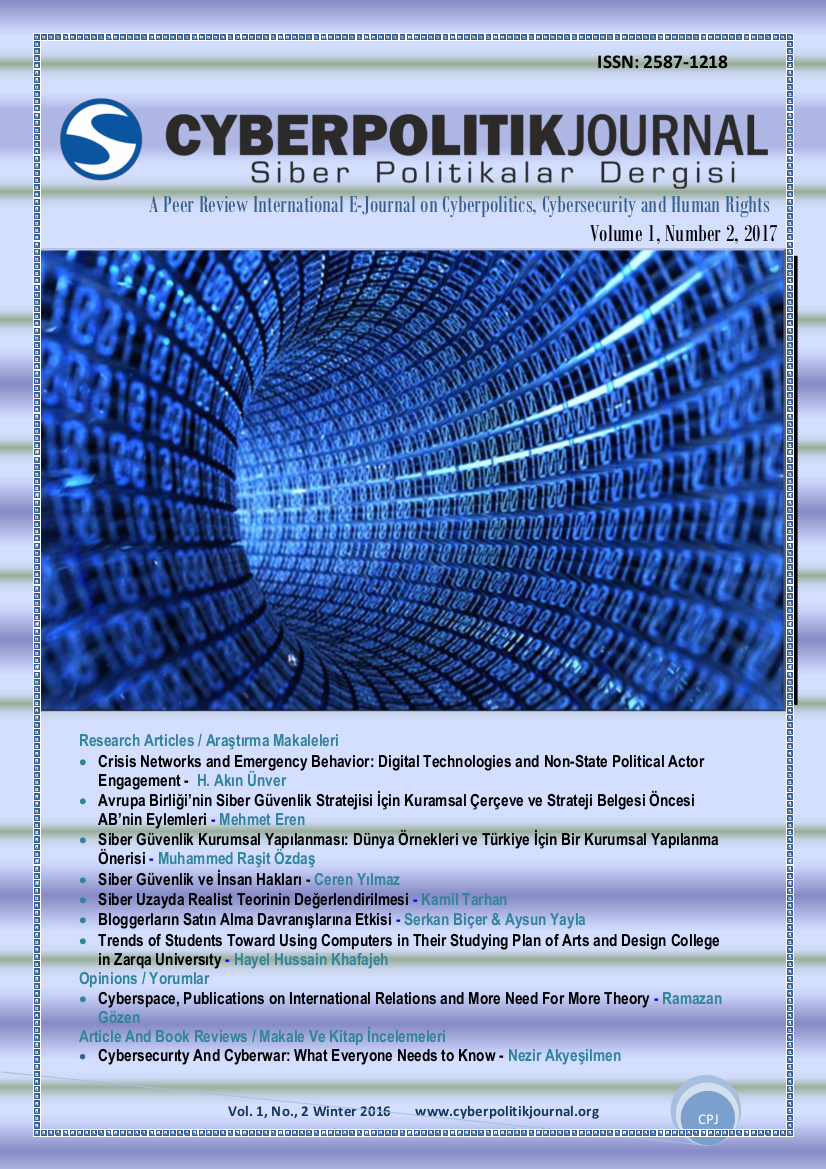 Downloads
How to Cite
GÖZEN, R. (2016). CYBERSPACE, PUBLICATIONS ON INTERNATIONAL RELATIONS AND MORE NEED FOR MORE THEORY. Cyberpolitik Journal, 1(2), 357-366. Retrieved from http://cyberpolitikjournal.org/index.php/main/article/view/69
License
This work is licensed under a Creative Commons Attribution-NonCommercial-ShareAlike 4.0 International License.