SİBER TEKNOLOJİNİN OMBUDSMANLIK ÇERÇEVESİNDE HAK ARAMAYA ETKİSİ: TÜRKİYE ÖRNEĞİ
Keywords:
Right, Application, Governing, Auditing, Cyber, Public Monitoring, Ombudsman
Abstract
The ombudsman institution, which originated in Islam, inspired by the Ottoman Empire and modern-day Swedish origin issued by the Swedish Constitution in 1809, has found widespread use in many countries around the world with the aim of solving individuals' complaints arising from the bad practices of the administration in a fast, effective and inexpensive manner. Official studies on the ombudsman foundation in Turkey was manifested by TODAIE KAYA report in 1991, the legislative work started by the Parliament with the acceptance of Ombudsman Act numbered 5548 in 2006, but the Constitutional Court have canceled. Yet, the Constitutional amendment of 2010 paved the way for establishment of Ombudsman in Turkey. Eventually, with the Law No. 6328, which was accepted by the Grand National Assembly of Turkey on 14.06.2012, the establishment of the Ombudsman Institution was realized and gained a constitutional status.
In this study, the nature of governance and auditing and traditional means of supervision are dealt with and the functionality of Ombudsman in Turkey is being discussed in the light of the historical process and the structure of the system in the world and its practices in unitary and federal countries. For this purpose, especially the functionality of the Ombudsman has been handled within the framework of legislation and practices. It has been evaluated that the
institution's ability to carry out productive, effective and useful works in accordance with its expected mission depends on having a proper and functional legislation. It is stated that necessary and sufficient legislative arrangements are essential for the institution to have a functional status. For weaknesses of application, the difficulties arising from the inadequacy of the legislation were pointed out and the weakness due to lack of support by the Parliament,
the public and the media was focused on. As the result, it has been concluded that Ombudsman mechanism has not reached an expected level of functionality in Turkey. Cyber technology, facilitates application processes significantly and it is an effective means of promotion of Ombudsman institution in Turkey. It is understood from the annual reports of the institution that most of the applications made for seeking rights to the institution are made
through cyber technology, which is an easy, inexpensive and fast tool.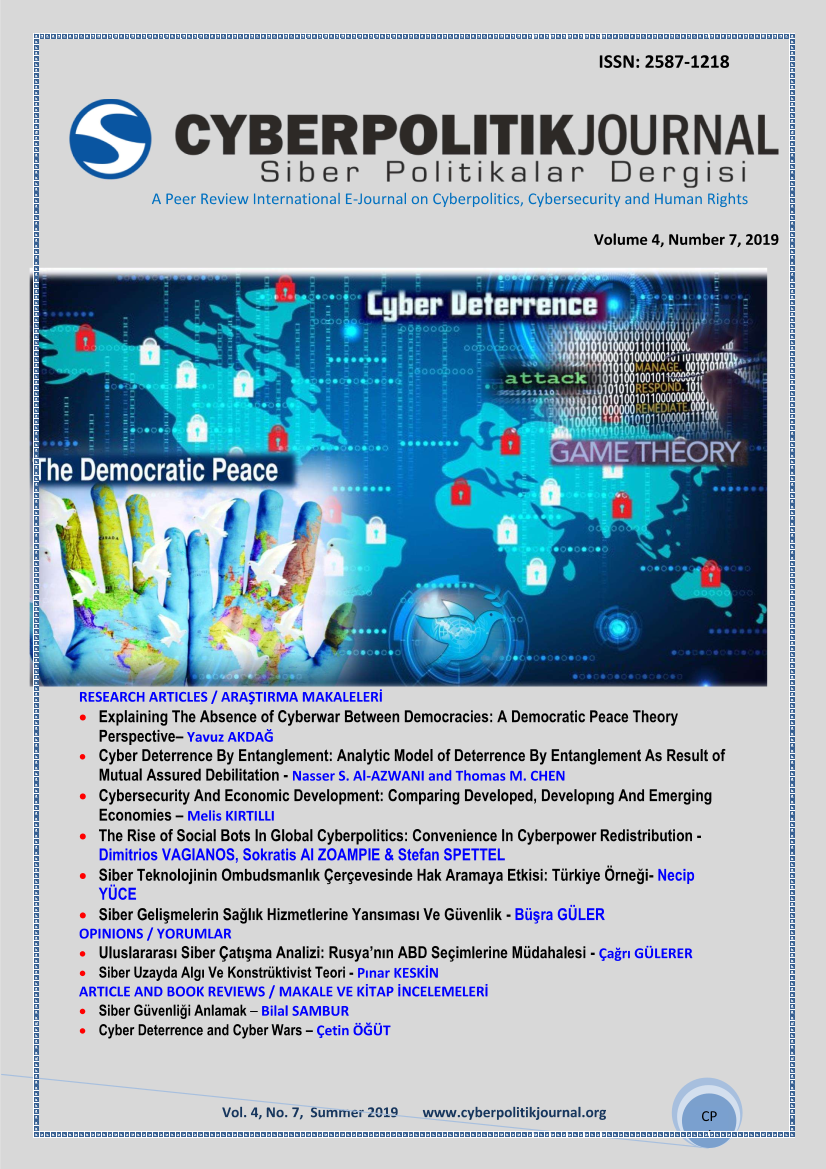 Downloads
How to Cite
YÜCE, N. (2019). SİBER TEKNOLOJİNİN OMBUDSMANLIK ÇERÇEVESİNDE HAK ARAMAYA ETKİSİ: TÜRKİYE ÖRNEĞİ. Cyberpolitik Journal, 4(7), 90-106. Retrieved from http://cyberpolitikjournal.org/index.php/main/article/view/30
Section
Research Articles
License
This work is licensed under a Creative Commons Attribution-NonCommercial-ShareAlike 4.0 International License.