China's Cybersecurity Strategies as a Cyber Power
Abstract
With the rapid development of the technology and the increase in connecting objects to the internet, cybersecurity has started to be on the agendas of states. Traditional methods are inadequate and sometimes do not respond to the cyberspace security, which occupies a place between physical and virtual. In this context, this study is examined what China's cybersecurity strategies are. The reason for choosing China for the study is that it works in various fields to ensure cyber security and this can be an example in terms of how cyber security can be achieved. The study consists of three sections. In the first section, the concept of cybersecurity is defined through cyber insecurity perceptions. In the second section, China's perceptions of cyber insecurity are discussed and then China's approach to cybersecurity is described. The third section focuses on what strategies China follows to ensure cybersecurity. Finally, in the conclusion, an evaluation is made within the framework of what has been explained from the beginning to end.
References
Akyeşilmen, N. (2018). Disiplinlerarası Bir Yaklaşımla Siber Politika & Güvenlik. Ankara: Orion Kitabevi.
Aslay, F. (2017). Siber Saldırı Yöntemleri ve Türkiye'nin Siber Güvenlik Mevcut Durum Analizi. International Journal of Multidisciplinary Studies and Innovative Technologies, 1 (1), 24-28.
Bach, J. (2020). The Red and the Black: China's Social Credit Experiment As a Total Test Environment. The British Journal of Sociology, 71 (3), 489-502.
Baezner, M. (2018). Cybersecurity in Sino-American Relations. Center for Security Studies, 224. Zürih.
Balke, L. (2018). China's New Cybersecurity Law and U.S-China Cybersecurity Issues. Santa Clara Law Review, 58 (1), 137-162.
Botsman, R. (2017). Big Data Meets Big Brother As China Moves to Rate Its Citizens. https://www.wired.co.uk/article/chinese-government-social-credit-score-privacy-invasion (Erişim Tarihi: 23.11.2020).
Cai, C. (2015). Cybersecurity in the Chinese Context Changing Concepts, Vital Interests, and Prospects for Cooperation. China Quarterly of International Strategic Studies, 1 (3), 471-496.
CCTV.com. (2013). Crossover: Chinese Citizens on Hacking Allegation. CCTV. http://english.cntv.cn/program/china24/20130221/106873.shtml (Erişim Tarihi: 15.11.2020).
Check Point Report. (2020). Cyber Security Report.
Cheung, T. M. (2018). The Rise of China As a Cybersecurity Industrial Power: Principles, Drivers, Policies, and International Implications. BASC Workıng Paper Series, No. 3. California: University of California.
Clarke, R. A. ve Knake, R. K. (2011). Siber Savaş. İstanbul: İKÜ Yayınları.
Clemente, D. (2013). Cyber Security and Global Interdependence: What Is Critical?. Londra: The Royal Institute of International Affairs.
Cybersecurity Law of the People's Republic of China. (2017).
Darıcılı, A. B. ve Özdal, B. (2018). Analysis of the Cyber Security Strategies of People's Republic of China. Güvenlik Stratejileri, 14 (28), 1-35.
Ďulík, M. (2019). Cyber Security Challenges in Future Military Battlefield Information Networks. Advances in Military Technology, 14 (2), 263-277.
Farwell, J. P. ve Rohozinski, R. (2011). Stuxnet and the Future of Cyber War. Survival. 53 (1), 23-40.
Gierow, J. H. (2015). Cyber Security in China: Internet Security, Protectionism and Competitiveness: New Challenges to Western Businesses. China Monitor, 22, 1-10.
Göçoğlu, V. ve Aydın, M. D. (2019). Siber Güvenlik Politikası: ABD, Rusya ve Çin Üzerine Karşılaştırmalı Bir Analiz. Güvenlik Bilimleri Dergisi, 8 (2), 229-252.
Herzog, S. (2011). Revisiting the Estonian Cyber Attacks: Digital Threats and Multinational Responses. Journal of Strategic Security, 2 (2), 1944-464.
ITU. (2020). Definition of Cybersecurity. https://www.itu.int/en/ITU-T/studygroups/com17/Pages/cybersecurity.aspx#:~:text=Cybersecurity%20is%20the%20collection%20of,and%20organization%20and%20user's%20assets (Erişim Tarihi: 01.10.2020).
İslam, N. (2019). Güç, Strateji ve Potansiyeller: Çin Ordusunun Temel Yetenekleri ve Unsurları Üzerine Bir İnceleme. Cappadocia Journal of Area Studies, 1 (1), 100-110.
Janeliūnas,T. ve Tumkevič, A. (2020). Avoiding a Cyber World War: Rational Motives for Negative Cooperation among the United States, China and Russia. V. Benson ve J. McAlaney (Ed.) Emerging Cyber Threats and Cognitive Vulnerabilities içinde (ss. 118-146). Londra: Elsevier Press.
Jiang, M. (2020). Cybersecurity Policies in China. L, Belli. (Ed.) CyberBRICS: Cybersecurity Regulations in BRICS Countries içinde (ss.195-212). Berlin: Springer.
Kaska, K.; Beckvard, H. ve Minárik, T. (2019). Huawei, 5G and China as a Security Threat. Tallinn: The NATO Cooperative Cyber Defence Centre of Excellence.
Kempf, N. (2020). Cyber Security. https://newavalontech.com/cyber-security/ (Erişim Tarihi: 06.12.2020).
Krekel, B. (2009). Capability of the People's Republic of China to Conduct Cyber Warfare and Computer Network Exploitation. US – China Economic and Security Review Commission Report. Virginia.
Kshetri, N. (2013). Cybercrime and Cyber-security Issues Associated with China: Some Economic and Institutional Considerations. Electronic Commerce Research, 13 (1), 41-69.
Li, M. K. (2018). How Chinese Cybersecurity Standards Impact Doing Business in China. CSIS Brief. https://www.csis.org/analysis/how-chinese-cybersecurity-standards-impact-doing-business-china (Erişim Tarihi: 03.10.2020).
Lilly, B. ve Cheravitch, J. (2020). The Past, Present, and Future of Russia's Cyber Strategy and Forces. T. Jančárková, L. Lindström, M. Signoretti, I. Tolga ve G. Visky (Editörler), 12th International Conference on Cyber Conflict içinde (ss. 129-155). Tallinn: NATO CCDCOE Publications.
Liu, Z.; Choo, K. R.; Liu, W. ve Khan, M. K. (2020). Introduction to the Special Section on Cyber Security Threats and Defense Advance. IEEE Transactions, 8(2), 264-266.
Longley, A. (2019). Understanding and Managing Cyber Security Threats and Countermeasures in the Process Industries. Loss Prevention Bulletin, 268, 2-6.
Marshall, T. (2019). Coğrafya Mahkumları. (4. Baskı). İstanbul: Epsilon Yayınları.
Nurkulov, N. (2017). New Cyber Strategy of China and the Alterations in the Field. Journal of Political Sciences & Public Affairs, 5 (4), 1-6.
Öğün, M. N. ve Kaya, A. (2013). Siber Güvenliğin Milli Güvenlik Açısından Önemi ve Alınabilecek Tedbirler. Güvenlik Stratejileri, 9 (18), 145-181.
Pande, J. (2017). Introduction to Cyber Security. Haldwani: Uttarakhand Open University.
Patel, K. K. ve Patel, S. M. (2016). Internet of Things-IOT: Definition, Characteristics, Architecture, Enabling Technologies, Application & Future Challenges. International Journal of Engineering Science and Computing, 6122-6131.
Patton, D. E. (2016). Evaluating U.S. and Chinese Cyber Security Strategies Within a Cultural Framework. Yüksek Lisans Tezi. Alabama: Air Command and Staff College Air University.
Rashid, A.; Chivers, H.; Danezis, G.; Lupu, E. ve Martin, A. (2019). The Cyber Security Body of Knowledge. UK: The National Cyber Security Centre.
Raud, M. (2016). China and Cyber: Attitudes, Strategies and Organisation. Tallinn: The NATO Cooperative Cyber Defence Centre of Excellence.
Saleem, M. (2019). Brexit Impact on Cyber Security of United Kingdom. International Conference on Cyber Security and Protection of Digital Services (Cyber Security).
Schmitt, M. (2012). Classification of Cyber Conflict. Journal of Conflict & Security Law, 17 (2), 245-260.
Seemma, P.S.; Sundaresan, N. ve Sowmiya, M. (2018). Overview of Cybersecurity. International Journal of Advanced Research in Computer and Communication Engineering, 7 (11), 125-128.
Segal, A. (2012). China Moves Forward on Cybersecurity Policy. https://www.cfr.org/blog/china-moves-forward-cybersecurity-policy (Erişim Tarihi: 19.11.2020).
Segal, A. (2017). Chinese Cyber Diplomacy in a New Era of Uncertainty. Aegis Paper Series. No 1703. Stanford: Hoover Institution.
Sen, G. (2019). China's Cybersecurity Strategy: Global Implications. Scholar Warrior Journal, 128-134.
Sheng, Z. (2010). To Defend 'Freedom', or to Defend Hegemony?. People's Daily. http://english.peopledaily.com.cn/90001/90780/91343/6879251.html (Erişim Tarihi: 15.11.2020).
Spade, C. J. M. (2012). China's Cyber Power and America's National Security. Pennsylvania: U.S. Army War College.
Swaine, M. D. (2013). Chinese Views on Cybersecurity in Foreign Relations. China Leadership Monitor, 42, 1-27.
The State Council The People's Republic of China. (2006). The National Medium- and Long-Term Program for Science and Technology Development (2006 – 2020). https://www.itu.int/en/ITU-D/Cybersecurity/Documents/National_Strategies_Repository/China_2006.pdf (Erişim Tarih: 10.11.2020).
Trautman, L. (2015). Cybersecurity: What About U.S. Policy?. Journal Of Law, Technology & Policy, 2015, 341-391.
TÜSİAD Beijing Office (2016). China Manufacturing 2025. http://www.taysad.org.tr/uploads/dosyalar/29-03-2016-04-07-China-Manufacturing-2025.pdf (Erişim Tarihi: 23.11.2020).
Yeli, H. (2017). A Three-Perspective Theory of Cyber Sovereignty. PRISM, 7 (2), 109-115.
Yüksel, (2019). Bilgi Güvenliği Nedir?. https://sibertehdit.com/bilgi-guvenligi-nedir/#:~:text=Bu%20%C3%BC%C3%A7%20temel%20g%C3%BCvenlik%20%C3%B6%C4%9Fesinden,ve%20yetkisiz%20eri%C5%9Fime%20kar%C5%9F%C4%B1%20korunmas%C4%B1d%C4%B1r.&text=Eri%C5%9Filebilirlik%3A%20Bilginin%20yetkili%20ki%C5%9Filerce%20ihtiya%C3%A7%20duyuldu%C4%9Funda%20ula%C5%9F%C4%B1labilir%20ve%20kullan%C4%B1labilir%20durumda%20olmas%C4%B1d%C4%B1r. (Erişim Tarihi: 19.11.2020).
Zaballos, A. G. ve Herranz, F. G. (2013). From Cybersecurity to Cybercrime: A Framework for Analysis and Implementation. Washington: Inter-American Development Bank Publisher.
Zhang, M. (2016). China's Practices and Challenges on Critical Information Infrastructures Protection (CIIP). 9th ISDP-AMS Joint Conference. https://www.isdp.eu/28368-2/ (Erişim Tarihi: 10.11.2020).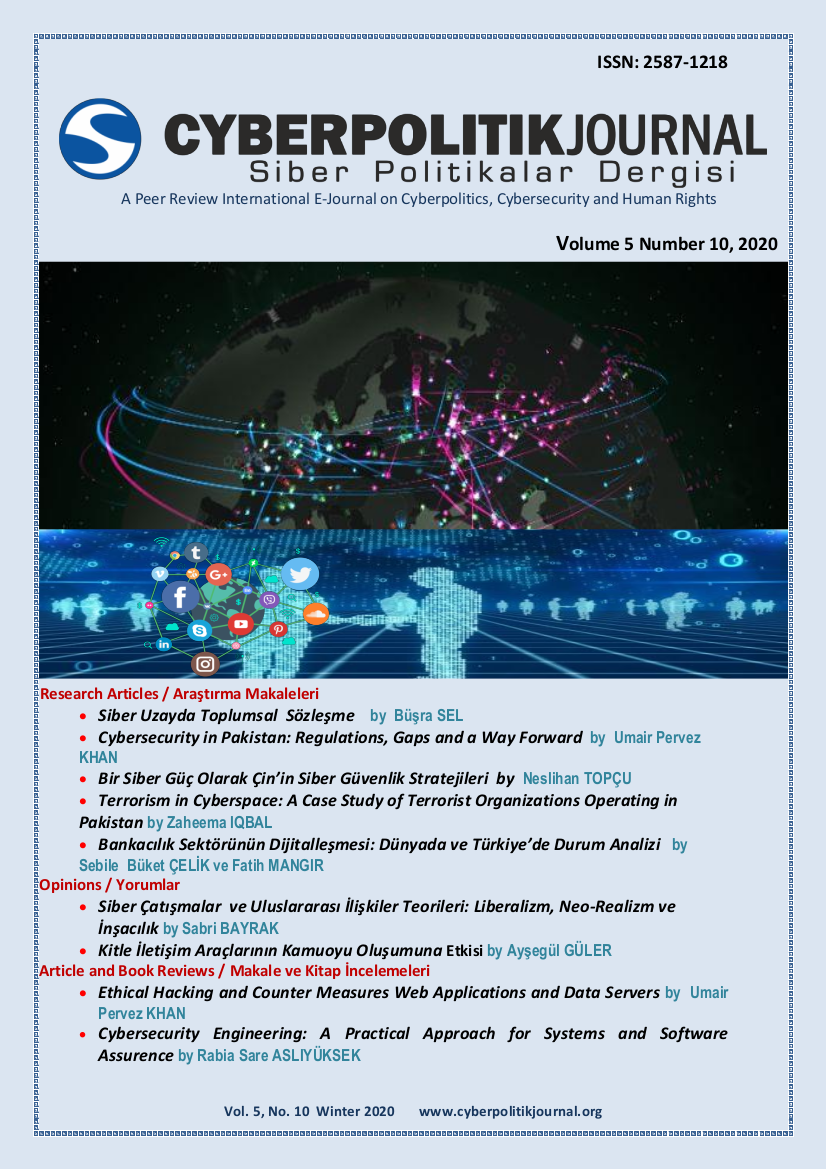 Downloads
How to Cite
Topcu, N. (2020). China's Cybersecurity Strategies as a Cyber Power. Cyberpolitik Journal, 5(10), 219-239. Retrieved from http://cyberpolitikjournal.org/index.php/main/article/view/111
Section
Research Articles
License
Copyright (c) 2021 Cyberpolitik Journal
This work is licensed under a Creative Commons Attribution-NonCommercial-ShareAlike 4.0 International License.