INTERNET OF THINGS (IoTs): USAGE AREAS AND CYBER SECURITY
Keywords:
Internet of Things (IoTs), Cyber Security, Data Privacy, Intelligent Technology
Abstract
The concept of the internet of things, which have physical, virtual features, access to the Internet, a common network between objects that have predefined functions and exchange information with other devices, was introduced to the literature by Kevin Ashton in 1999. IoTs is the way in which each object we use or use will communicate with other devices over the Internet in some way. With the spread of the Internet of Things, devices that communicate with each other in almost every area that has become an important part of our business and private lives have started to exist and they have facilitated our lives. As many electronic devices are starting to become smart, these devices can also communicate with each other. In everyday life, it is easy to access a lot of information from where you sit with your smartphone or your phone. Connecting the devices over the Internet records social life. Internet usage area and amount is increasing day by day. The quota used today is thought to be used only by household appliances in the 2020s. In addition, it is estimated that IP traffic across the world will occur in zetabyte and more than half of them will be created as noncomputer defined devices. The incredible increase in the amount of data will become difficult and complicated to process, and the privacy and security of the data will become even more important. Remote control, access to large amounts of data, protection of information systems from attacks, protection of confidentiality of information/data, ensuring the integrity and assurance of security are of great importance. In this study, the application areas of the Internet of Things application, the security measures that users can implement and the ways to increase security awareness will be examined. The purpose of the study, the use of the Internet of objects, evaluation of opportunities and risks, collecting and storing personal data, minimizing the dangers and investigating what can be done to ensure security.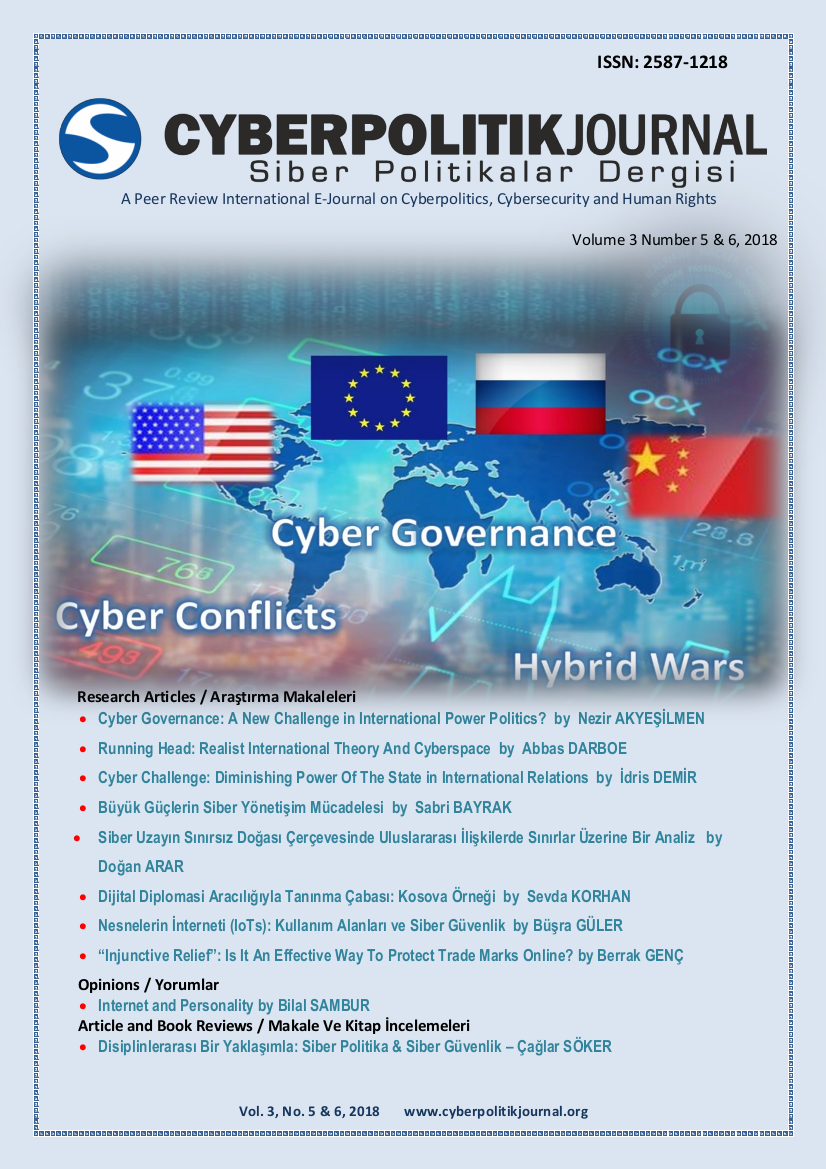 Downloads
How to Cite
GÜLER, B. (2020). INTERNET OF THINGS (IoTs): USAGE AREAS AND CYBER SECURITY. Cyberpolitik Journal, 3(5 & 6), 97-113. Retrieved from http://cyberpolitikjournal.org/index.php/main/article/view/45
Section
Research Articles
License
This work is licensed under a Creative Commons Attribution-NonCommercial-ShareAlike 4.0 International License.