THE RISE OF SOCIAL BOTS IN GLOBAL CYBERPOLITICS: CONVENIENCE IN CYBERPOWER REDISTRIBUTION
Keywords:
Social Media Bots, Twitter bots, Bots' Political Influence, Bot development
Abstract
In the Age of Web 2.0, the Internet has been envisaged as a democratic arena where political engagement is granted with equal access rights to everybody. In this illusory democratic context, the rise of Social Media bots has introduced in the digital realm new uninvestigated fields and is said to have the power to undermine the prevailing democratic values of the Internet. The aim of this paper is to demonstrate the political influence of social bots and thus to sculpt an image of how their usage can help their developers to exercises political power in cyberspace. Three case studies are presented for this purpose, related to politically colored areas of the net: the US elections 2016, the UK referendum in 2017 and the Gulf crisis in 2017 which led the gulf states to cut diplomatic relations with Qatar. In order to give a clear overview, the terminology and definitions of bots are analyzed in an effort to demonstrate the already multiple typologies of bots that exist. Moreover, the ways and techniques in which bots can be used and how they affect the political and social scene are presented. In an effort to give a more applied dimension to this paper and provide with an overview of how a bot is made, a service Twitter bot development is presented, aiming to demonstrate the convenience that bots can be developed by using open source software and by possessing basic programming skills. In this procedure, the capabilities of the Twitter API (Application Programming Interface) are exploited.
Eventually, the need for standing critically against the so called "user" generated content in contemporary Social Media landscape at present moment is highlighted along with the inevitable necessity to develop constantly improved tools for identifying and dealing with traffic derived by fake accounts (bots) within a democratic legal context.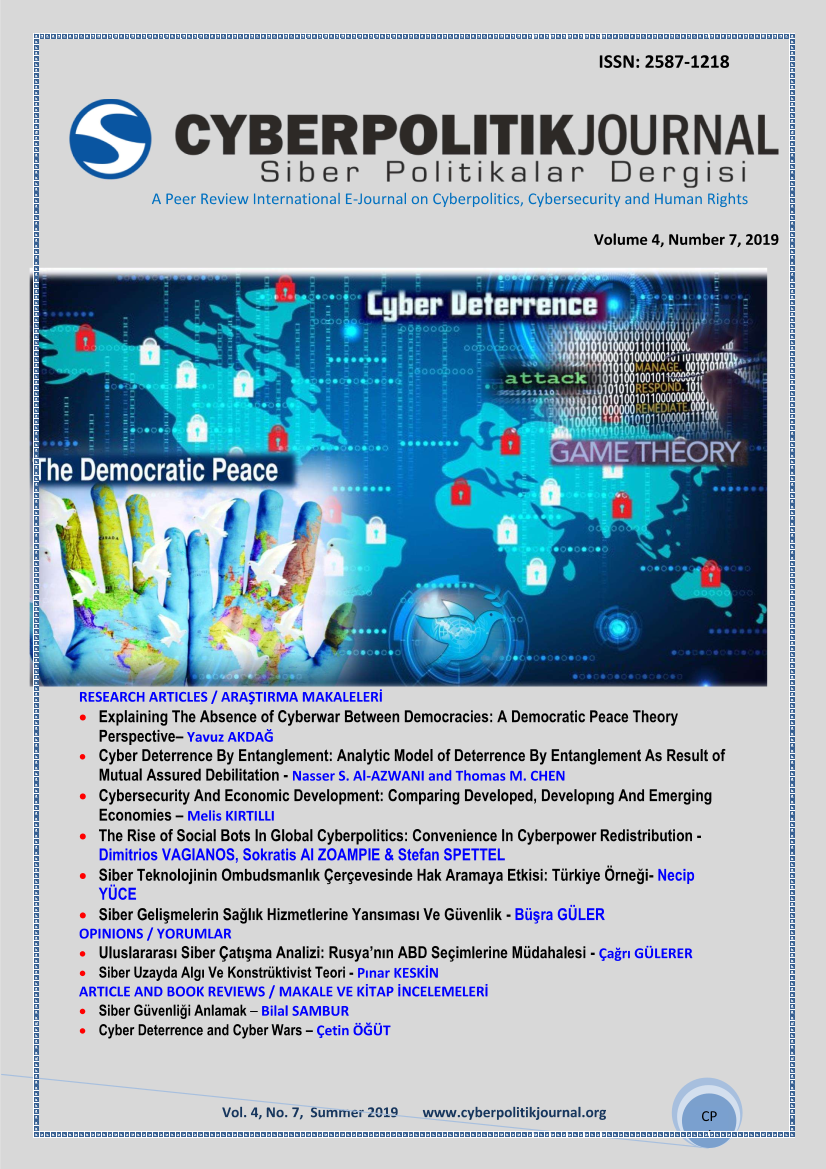 Downloads
How to Cite
VAGIANOS, D., AL ZOAMPIE, S., & SPETTEL, S. (2019). THE RISE OF SOCIAL BOTS IN GLOBAL CYBERPOLITICS: CONVENIENCE IN CYBERPOWER REDISTRIBUTION. Cyberpolitik Journal, 4(7), 70-89. Retrieved from http://cyberpolitikjournal.org/index.php/main/article/view/29
Section
Research Articles
License
This work is licensed under a Creative Commons Attribution-NonCommercial-ShareAlike 4.0 International License.