Siber Güvenlik Bağlamında Gürcistan Hibrit Savaşının Analizi
Abstract
Geçmişten günümüze teknolojinin gelişimi ile birlikte hayatımızda birçok değişiklik yaşanmıştır ve her alanda gelişmeler meydana gelmiştir. Bunlardan biri de güvenlik alanı temelinde savaş ve savunma alanlarıdır. Teknoloji ile birlikte savaş araçları değişmiştir. Bu durum da savaş yöntemlerine de yeni bir boyut kazandırmıştır. Eskiden kılıç vs. gibi ilkel yöntemler kullanılıyordu. Teknolojinin gelişimi ile ateşli silahlar savaşlarda etkin hale gelmişti. Günümüzde ise bu durum farklı bir hal almıştır. Teknolojinin gelişimi ile hayatımıza giren internet, bir siber silah yaratma imkanı sunmuştur. Küreselleşmenin de etkisiyle, internet kullanımı ile kurulan bağlantılar siber güvenlik alanı yaratmıştır. Bu gelişen olaylar, ülkelerin siber güvenliğe karşı bir savunma geliştirmeleri ihtiyacını doğurmuştur. Bu makalede ilk olarak siber güvenlik kavramı ve etkileri incelenecektir. Daha sonra ise siber bir saldırının bir silah olarak kullanılmasının nasıl mümkün olduğu tartışılacak ve 2008 Gürcistan örneği üzerinden incelenecektir.
References
AFCEA (2012, May 11). The Russo-Georgian War 2008: The Role of the Cyber Attacks in The Conflict. https://www.afcea.org/committees/cyber/documents/therusso-georgianwar2008.pdf
Akyeşilmen, N. (2018) Disiplinlerarası Bir Yaklaşımla Siber Politika & Güvenlik. Ankara: Orion.
Bıçakcı, S. (2019). Hibrit Savaş. Retrieved from
https://trguvenlikportali.com/wpcontent/uploads/2019/11/HibritSavas_SalihBicakci
Bıçakcı, S. (2012). Yeni Savaş ve Siber Güvenlik Arasında NATO'nun Yeniden Doğuşu. Retrieved from https://dergipark.org.tr/tr/pub/uidergisi/issue/39282/462604
Daban, C. (2016) Siber Güvenlik ve Uluslararası Güvenlik İlişkisi. Cyberpolitic Journal, 1(1), 78-94.
Dunn Cavelty, M., & Wenger, A. (2019). Cyber Security Meets Security Politics: Complex Technology, Fragmented Politics, And Networked Science. Contemporary Security Policy, 41(1), 5-32. Https://Doi.Org/10.1080/13523260.2019.1678855
Grimal, F., & Sundaram, J. (2017). Cyber Warfare and Autonomous Self-Defence. Journal On The Use Of Force And International Law, 4(2), 312-343.
Https://Doi.Org/10.1080/20531702.2017.1338877
Kara, M. (2013). Siber Saldırılar-Siber Savaşlar ve Etkileri (Master's thesis, İstanbul Bilgi Üniversitesi, İstanbul, Türkiye).
https://afyonluoglu.org/PublicWebFiles/Reports-TR/Akademi/2013-TEZ-Siber%20Sald%c4%b1r%c4%b1lar%20Siber%20Sava%c5%9flar%20ve%20Etkileri.pdf
Kello, L. (2013). The meaning of the cyber revolution: Perils to theory and statecraft. International Security, 38(2), 7-40. Doi:10.1162/isec_a_00138
Liff, A. P. (2012). Cyberwar: A New 'Absolute Weapon'? The Proliferation Of Cyberwarfare Capabilities And Interstate War. Journal Of Strategic Studies, 35(3), 401-428. Https://Doi.Org/10.1080/01402390.2012.663252
Netolická, V., & Mareš, M. (2018). Arms Race "In Cyberspace" – A Case Study of Iran and Israel. Comparative Strategy, 37(5), 414-429.
Https://Doi.Org/10.1080/01495933.2018.1526568
Rid, T. (2012). Cyber War Will Not Take Place. Journal of Strategic Studies, 35(1), 5-32. Https://Doi.Org/10.1080/01402390.2011.608939
Shakarian, P. (2011) The 2008 Russian Cyber-Campaign Against Georgia, Military Review, 63-68.
Yılmaz, O. (2018). Küreselleşme Sürecinde Dönüşen Güvenlik Algısı Ve Siber Güvenlik. Cyberpolitik Journal, 2 (4), 22-43.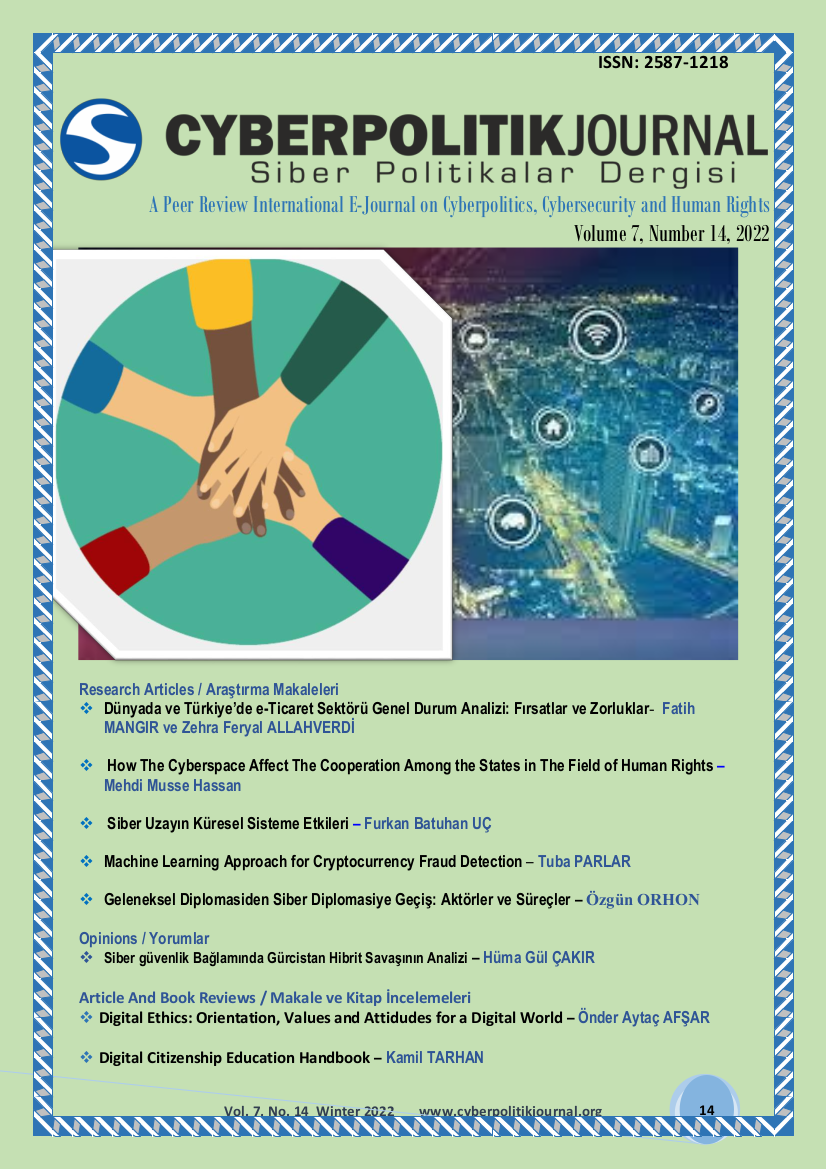 Downloads
How to Cite
ÇAKIR, H. G. (2023). Siber Güvenlik Bağlamında Gürcistan Hibrit Savaşının Analizi. Cyberpolitik Journal, 7(14), 263-269. Retrieved from http://cyberpolitikjournal.org/index.php/main/article/view/173
License
Copyright (c) 2023 Cyberpolitik Journal
This work is licensed under a Creative Commons Attribution-NonCommercial-ShareAlike 4.0 International License.