How The Cyberspace Affect the Cooperation Among the States in the Field of Human Rights
Keywords:
Cyberspace, cybersecurity, Nation-state, actors, Hackers, cooperation and spy
Abstract
The developing influence of cyber activities in social, economic, political, and military spheres provided cyberspace with an indispensable feature of human life and security. With the rapid growth of cyberspace in this modern society since the introduction of the internet and gigantic digital devices with their indisputable good side, there are also critical challenges and threats led by the internet and digital devices. The bad and good sides of cybersecurity affect the different levels of society, whether normal individuals, business organizations, international organizations, or even governments. Creating mechanisms and answering the consequence of cyber attacks to control the cyber threats appeared to harm the fundamental human right. Since that period, many states have taken the issue seriously regarding ordinary individuals and organizations who meet daily critical cyber-attacks and threats. For instance, 2007 was a cornerstone period of the emergence of global concern about cyber threats when the entire nation of Estonia experienced a large-scale cyber attack. This incident has turned international attention and worries into cyber threats. Currently, nation-states have engaged the sett up regulations and approaches to prevent or minimize the dangers that can be caused by cybersecurity.
The developed technological and economic states have shown high doubt between them caused by cybersecurity attacks. Thus, this article explores cyberspace touch the cooperation between the nations in the field of human rights. The paper also focuses on how basic human rights should be respected and protected while implementing the mechanism against cybersecurity. Although nation-states are essential actors in cyber and cybersecurity, it is inevitable to cooperate to achieve a suitable solution for cyberattacks. The paper concludes some state cooperation appeared in the last years, while others attempt to develop cybersecurity which can harm the security of other nations. It is unavoidable to collaborate between the state to reach appropriate and effective responses, which is desired during any cyber attack. In the end, the article also underlined obtaining cooperation among states to establish an uninterrupted multilateral network to defend the cyber threats via guaranteed shared cybersecurity.
References
• Anas, O. (2015) A Reluctant Cyber Security Agreement between the US and China.
• Australian Human Rights Commission. (2013). Background Paper: Human rights in Cyberspace, September, www.humanrights.gov.au.
• Bets,D and Stevens,T. (2013). Cyberspace and the State: Towards a Strategy for Cyber-Power, University of Exeter UK, and Jeremy Black.
• Betz, D. and Stevens, T. (2011).Cyberspace and the State: Toward a Strategy for Cyber-Power. King's College London.
• Bourgeois,T.D. (2014). Information Systems for Business and Beyond. Saylor Academi.
• Cornish, P. and Hughes, R. and Livingstone, D. (2009).Cyberspace and the National Security of the United Kingdom: Threats and Responses.
• Crews, C. Jr. (2006). Giving Chase in Cyberspace: Does Vigilantism Against Hackers and File-sharer Make Sense?. Competitive Enterprise Institute. No. 109.
• Eidman, R.C. and Green, G. (2014). Unconventional Cyber Warfare: Cyber Opportunities in Unconventional Warfare. Master of Science in Defense Analysis.
• Ferenc, I. (2012).The Cyberspace and Its Risks. http://hadmernok.hu/2012_2_inkovics.pdf.
• Green, N. and Rossini, C. (2015). Cyber security and Human Rights
• Harris, E. (2016:6). Comparing Cyber-Relations: Russia, China, and the US http://natoassociation.ca/comparing-cyber-relations-russia-china-and-the-u-s/ [Accessed on 21.12.2017].
• Heinl C.H. (2014).Artificial (Intelligent) Agents and Active Cyber Defence: Policy Implications. 6th International Conference on Cyber Conflict. NATO CCD COE Publications, Tallinn.
• https://www.gccs2015.com/sites/default/files/documents/Introduction%20Document%20for%20GCCS2015%20Webinar%20Series%20%20Cybersecurity%20and%20Human%20Rights%20(1).pdf.
• International Relations and Diplomacy. NATO Cooperative Cyber Defence Centre of Excellence. Tallinn, Estonia.
• Jayawardane, S. and Larik, J. and Jackson, E. (2015).Cyber Governance: Challenges, Solutions, and Lessons for Effective Global Governance, Hague Institute for Global Justice.
• Jocobson, D.(1999). Doing Research in Cyberspace. Sage Publications, Vol. 11, No. 2.
• Johnson, V. (1990). The French Declaration of the Rights of Man and of Citizens of 1789, the Reign of Terror, and the Revolutionary Tribunal of Paris. Boston College International and Comparative Law Review, Volume 13, Issue 1 Article 2.
• Jorgensen. (2001). Internet and freedom of expression. Master thesis in Human Rights and Democratisation. Raoul Wallenberg Institute.
• Keopsell, D. and William, R (1995). The Ontology of Cyberspace: Questions and Comments, State University of New York, Buffalo.
• Kim, S., Seo, S., and Lee, I. ( 2009). Essential Characteristics of Cyberspace and Analysis of Cyber Educational Institutions. Sejong University. Seoul, South Korea.
• Klimburg , A. and Mirtl, P. (2012). Cyberspace and Governance—A Primer, Australian Institute for International Relations.
• Korza, E. (2015). Is This China and Russia's "Non-aggression Pact" for Cyberspace?. http://nationalinterest.org/blog/the-buzz/china-russias-nonaggression-pact%E2%80%9D-cyberspace-13654 [Accessed on 20.12.2017].
• Kshetri, N. (2014). Security and International Relations: The US Engagement with China and Russia. The University of North Carolina, Greensboro.
• Kulikova, A. (2015) China-Russia cyber security pact: Should the US be concerned?.
• La Rue, F. (2011). Report of the Special Rapporteur on the promotion and protection of the right to freedom of opinion and expression. United Nations. A/HRC/17/27. www2.ohchr.org/english/bodies/hrcouncil/docs/17session/A.HRC.17.27_en.pdf.
• Land, M. (2013).Toward an International Law of the Internet. Volume 54, Number 2
• Lehto, M. and Neittaanmäki, P. (2015). Cyber Security: Analytics Technology and Automation. Intelligent system control and Automation: Science and Engineering, Switzerland
• Lewis, J. (2010). Sovereignty and the Role of Government in Cyberspace, Center for Strategic and International Studies, volume xvi, issue II.
• Lewis, J.A. (2010). and the Role of Government in Cyberspace. The Brown Journal of World Affairs, Vol. 16, No.2.
• Lewis, M. and Bockius, LLP. (2015). United States and Japan form cyber security alliance in hopes of building international norms,https://www.lexology.com/library/detail.aspx?g=d3efe7f5-8b48-47c4-b8d7-a23ef955b470 [Accessed on 24.12.2017].
• Lieberthal, K. Singer,W.(2012). Cyber security and U.S.-China Relations.
• Lukitasari, D. (2013). Freedom of speech in Cyberspace: Human Rights perspective. International Journal of Business, Economics and Law, Vol. 2, Issue, Indonesia.
• Mendel, T. and Puddephatt,A. and Wagner, B. and Hawtin, D. and Torres, N.(2012). Internet Privacy and Freedom of Expression. Published by UNESCO.
• Moore, S. (2013). Cyber Attacks and the Beginnings of an International Cyber Treaty.
• Murray, B. (1995). Cyberspace and the Future. California Institute of Technology, February.
• Otiis, R. and Lorents, P. (2017). Cyberspace: Definition and Implications. Cooperative Cyber Defence Centre of Excellence, Tallinn, Estonia.
• Ottis, R. and Lorents, P. (2010). Cyberspace: Definition and Implications, Cooperative Cyber Defence Centre of Excellence.
• Reardon, R. Coucril, N. (2012:4). The Role of Cyberspace in International Relations: A View of the Literature.
• Rengel, A. (2014). Privacy as an International Human Right and the Right to Obscurity in Cyberspace. Groningen Journal of International Law, Vol 2.
• Saalman, L. (2017). China–Russia Relations and Regional Dynamics: From Pivots to Peripheral Diplomacy.
• Sasore, A. (2016). The 2015 United States-China Cyber Security Agreement and Its Impact on International Cyber Conduct.
• Segal, A. (2016). The Top Five Cyber Policy Developments of 2015: United States-China Cyber Agreement. https://www.cfr.org/blog/top-five-cyber-policy-developments-2015-united-states-china-cyber-agreement [Accessed on 19.12.2017].
• Shackelford, S. (2017). Human Rights and Cybersecurity Due Diligence: A comparative study. Indiana University, Kelley School of Business, Volume 50, Issue, 4.
• Sigholm, J. (2013). Non-State Actors in Cyberspace Operations. Swedish National Defence College, Volume 4, Issue 1.
• Sigholm, J. (2013). SigholmNon-State Actors in Cyberspace Operations. Swedish National Defence College. Journal of Military Studies, V. 4, N. 1, APR. 2013. ISSN 1799-3350.
• UK office of Cyber Security. (2009). Cyber Security Strategy of the United Kingdom safety, security and resilience in cyberspace. http://ccpic.mai.gov.ro/docs/UK_cyber_security.pdf
• Van der, F. and Meijnders, M. and Rood, J. (2015). Deterrence as a security concept against non-traditional threats in-depth study. Netherlands Institute of International Relations Clingendael, Hague.
• White, M. (2001). Human Rights in Cyberspace: Shifting the Goal Posts or Business as Usual?
• Ziolkowsk, K. (2013). Peacetime Regime for State Activities in Cyberspace: International Law.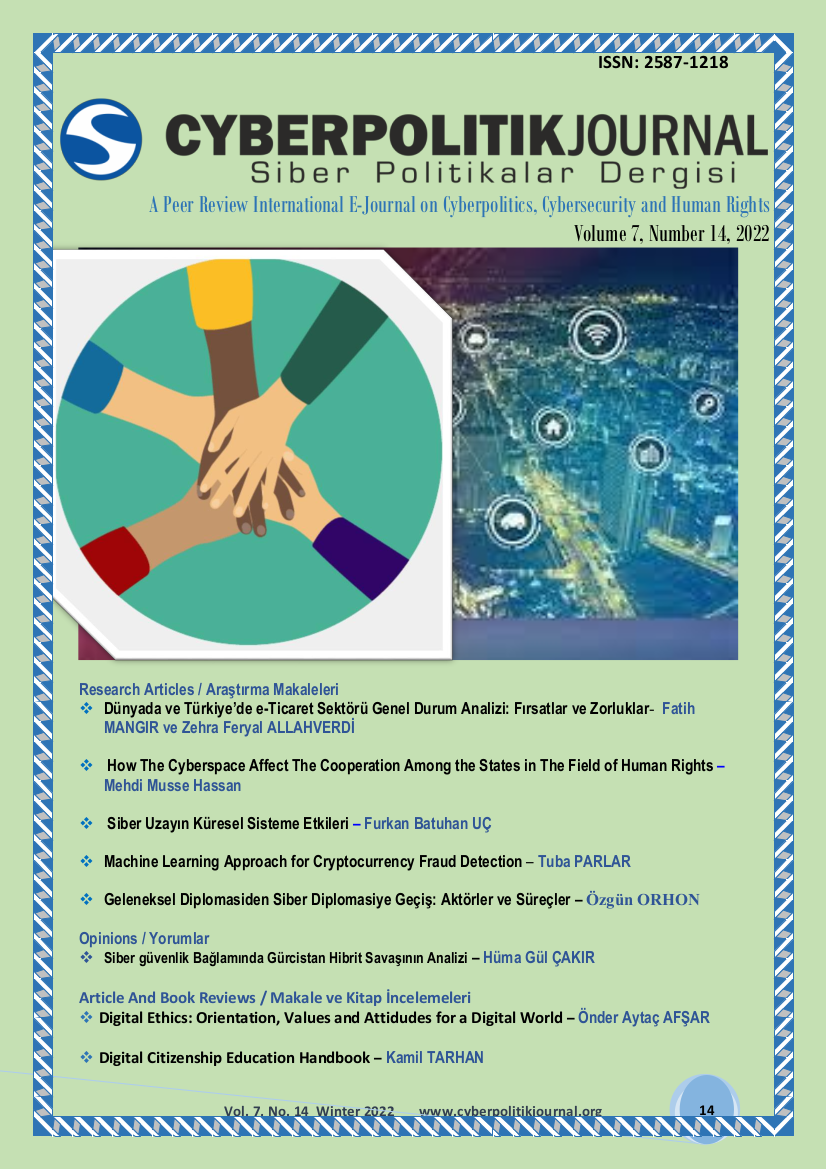 Downloads
How to Cite
HASSAN, M. M. (2023). How The Cyberspace Affect the Cooperation Among the States in the Field of Human Rights. Cyberpolitik Journal, 7(14), 155-181. Retrieved from http://cyberpolitikjournal.org/index.php/main/article/view/169
Section
Research Articles
License
Copyright (c) 2023 Cyberpolitik Journal
This work is licensed under a Creative Commons Attribution-NonCommercial-ShareAlike 4.0 International License.