Siber Teknolojinin Seçim Süreçlerine Etkisi
Keywords:
Cyber Technology, Politics, Election Processes, Political Parties, Democracy
Abstract
The purpose of this article is to theoretically present the effect of cyber technology, which encompasses all areas of our lives, on election processes, together with practical examples. Cyber technology, which is increasingly showing its direct connection with globalization, has influenced many political, economic, cultural and various social areas in today's transition from industrial society to information society. The penetration of cyber technology into our daily lives has become an important opportunity, including political activities, in fact, according to its ability to use it. Today, cyber technology has added an extraordinary comfort to our lives, and everyone accepts the many conveniences it brings. A large part of our business, communication, education, shopping and even entertainment activities are embodied in this area. Therefore, this issue, which has infiltrated into the most capillaries of our lives, should be seriously investigated. Since it will not be possible to evaluate and move forward on this issue alone, we must examine all environmental factors to the finest detail. To exemplify this, even the point of view between the generations and the difference in need between the generations are issues that need to be examined. From the difference between the sensitivity of the X generation to social problems and the sensitivity of the Z generation to social problems, from the Y generation's antipathy towards hierarchy, to the work and hierarchy-loving structure of the X generation, it is a very obvious reality that today's technology is an element that affects the behavior of people. Therefore, it is necessary to evaluate the effect of technology, which so clearly affects the human factor and has reached this point for humans, on the selection processes in all details.
References
Akyeşilmen, N. (2018). Disiplinlerarası bir yaklaşımla Siber Politika ve Siber Güvenlik. Ankara: Orion Kitabevi.
Çağatay, S.N. Karasoy, H.A. (2020). İntellıgence, İstihbarat Devlet için Önem ve İşlevi. Konya: Literatürk Academia.
Çakır, N. (2013). Türkiye'nin Güvenliği ve Terörizm. Ankara: Koza Yayıncılık
Çakmak, H. Altunak, T. (2009). Suç, Terör ve Savaş Üçgeninde Siber Dünya. Ankara: Barış Platin Kitabevi.
Gökdemir, O. (2013). Sanal Alemin Klavyeli Asileri. İstanbul: Destek Yayınevi
Harari, Y. N. (2018). 21. Yüzyıl için 21 Ders, çev. Selin Siral. İstanbul: Kolektif Kitabevi.
Özkaya, E. Sarıca, R. Durmaz, Ş. (2019). Siber Güvenlik Saldırı & Savunma Stratejileri. Ankara: Buzdağı Yayınevi.
Sınger, W.P. Frıedman, A. (2019). Siber Güvenlik ve Siber Savaş. Ankara: Buzdağı Yayınevi
Terzi, M. Yenal, S. (2015). Uluslararası Güvenlik ve Terörizm. Ankara: Sinopsis Yayınları
Türk, A. (2020). Neden Söylüyorum / Bizmi Sosyal Medyaya Bağımlıyız, Yoksa Sosyal Medyamı Bize? Ankara: Spor Yayınevi.
Ünal, A.N. (2015). Siber Güvenlik ve Elektronik Bileşenleri. Ankara: Nobel Yayınevi
Yenal, S. (2021). Teoriden Uygulamaya Güvenlik ve Terörizm Çalışmaları Ankara: Nobel Akademik Yayıncılık.
https://www.bbc.com/turkce/haberler-turkiye-53259275
https://www.resmigazete.gov.tr/eskiler/2018/02/20180226-10.htm
https://www.cnnturk.com/dunya/bu-robot-belediye-baskanligina-aday?page=2
https://www.haberturk.com/son-dakika-haberi-bircok-buyuk-web-sitesi-coktu-3097707-teknoloji
https://www.kaspersky.com.tr/resource-center/definitions/what-is-cyber-security
https://edam.org.tr/siber-savas-gelecegin-askeri-gercekligi-ve-gunumuzun-bilimkurgusu-arasinda/
https://bigpara.hurriyet.com.tr/haberler/bitcoin-haberleri/bitcoinde-siber-saldiri-dususu_ID1454847/
https://www.perspektif.online/siber-siyaset-sosyal-medya-siyasal-surecler-ve-secimler/?fbclid=IwAR19nqiao4gXsBpg5lxuPbogO100bE5shrITSXrqxlnO80cscTK7-Gyqs-o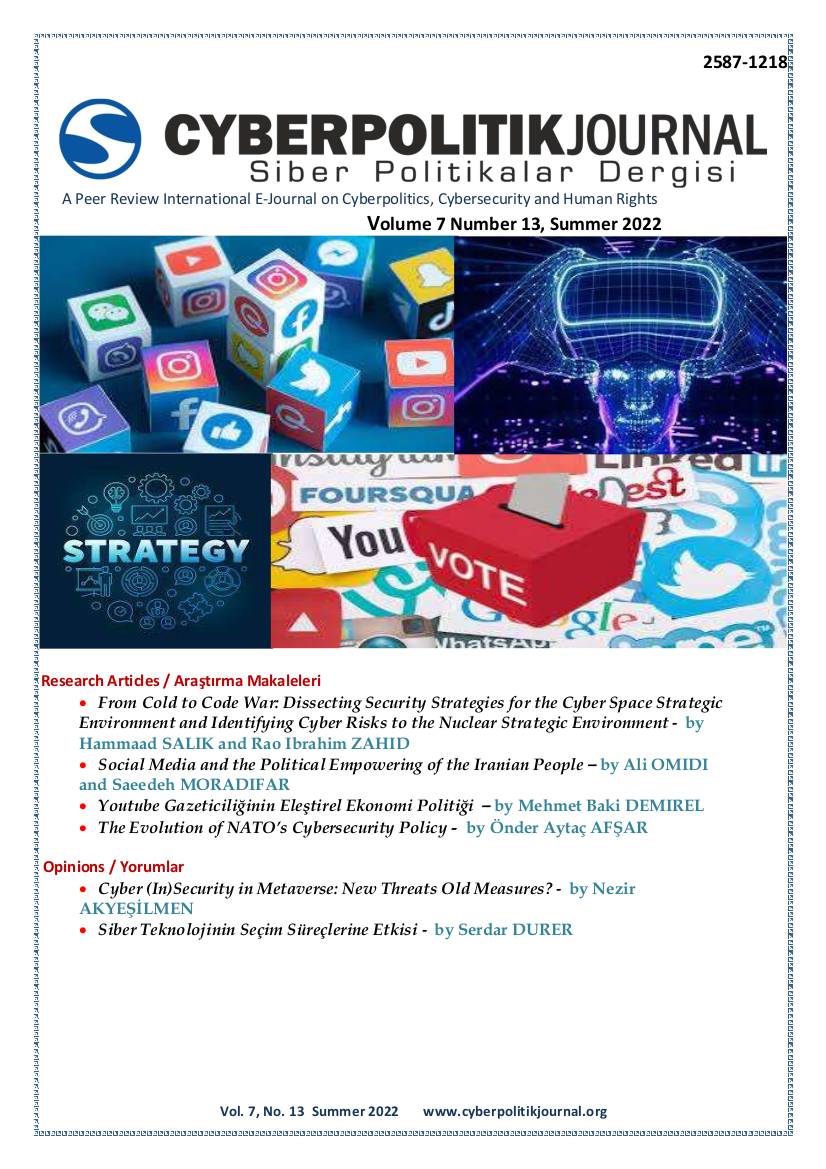 Downloads
How to Cite
DURER, S. (2022). Siber Teknolojinin Seçim Süreçlerine Etkisi. Cyberpolitik Journal, 7(13), 108-125. Retrieved from http://cyberpolitikjournal.org/index.php/main/article/view/160
License
Copyright (c) 2022 Cyberpolitik Journal
This work is licensed under a Creative Commons Attribution-NonCommercial-ShareAlike 4.0 International License.