DATA BREACHES IN THE ERA OF COVID-19: SILENT IDENTITY COLLECTION AS AN INTENTIONAL POLITICAL INSTRUMENT - THE WEAK EXPERIENCE OF THE BALKAN REGION
Keywords:
Data Breaches, the Balkan region, political abuse of power, human rights violations, health measures
Abstract
The era of Covid-19 reconstructed the vision of the Balkan region, mainly in the countries of the Western Balkans. The rapid emergence of the virus served as an intentional instrument for the political authorities to commit frequent data breaches. The implementation of the restricted measures in the Balkans reflected the weaknesses and the failures of the health system, the shortage of doctors and nurses, the unpreparedness, the ignorance of the inhabitants and the lack of regional cooperation. The process of gradual relaxation of the measures did provoke a second wave of Covid-19. The corruption of the elections prevented the harmonious process of the rule of law to function properly. The sudden revelation of the names of the patients infected with coronavirus on social media, the organisation of local and national protests during total curfew days, the immediate imposition of heavy fines and the
unpreparedness of the security officers has resulted with a total collapse of the state apparatus. The objective to ameliorate the situation was interrupted with the presence of political and health fears in the diverse communities.
References
Achten, Nele. (2021). "Cyber Threats During the Covid-19 Outbreak and Activities of National CERTS in the Western Balkans". Geneva Centre for Security Sector and Governance. pp.1-9. https://www.dcaf.ch/sites/default/files/publications/documents/CyberThreatsDuringCOVID19_ActivitiesCERTs_in_WB_0.pdf
Alkove, Jim. (2021). Cybersecurity is no longer enough: businesses need cyber resilience. World Economic Forum. https://www.weforum.org/agenda/2021/11/why-move-cyber-security-to-cyber-resilience/
Balkan Barometar 2020: COVID-19 Impact Assessment. Public and Business Opinion, Analytical report. Regional Cooperation Council, pp.1-42.
Council of Europe, Committee of Ministers, Recommendation No.R (97) 5 on the Protection of Medical Data (Feb.13, 1997). http://hrlibrary.umn.edu/instree/coerecr97-5.html
Huszka, Beáta., Lessenska, Tania. (2020). Viral Vulnerability: How The Pandemic is Making Democracy Sick in the Western Balkans. European Council on Foreign Affairs. https://www.jstor.org/stable/resrep27737?seq=7#metadata_info_tab_contents
Knoppers, Maria Bartha (JD). (2000). Protecting Data Privacy in Health Services Research. Appendix D Confidentiality of Health Information: International Comparative Approaches. Institute of Medicine (US) Committee on the Role of Institutional Review Boards in Health Services Research Data Privacy Protection. Washington DC: National Academies Press (US).
Minović, Adriana., Abusara, Adel., Begaj, Eranda, Erceg, Vladimir., Tasevski, Predrag., Radunović, Vladimir., Klopfer, Franziska., (2016). Cybersecurity in the Western Balkans: Policy Gaps and cooperation opportunity. Research report under the project: "Cybersecurity Capacity Building and Research Programme for South-Eastern Europe" implemented with the support of the Federal Department of Foreign Affairs of Switzerland. DiploFoundation Geneva, pp.1-59. https://www.diplomacy.edu/sites/default/files/Cybersecurity%20in%20Western%20Balkans.pdf
OECD (Better policies for better lives). THE COVID-19 CRISIS IN THE WESTERN BALKANS, Economic impact, policy responses, and short-term sustainable solutions, TACKLING CORONAVIRUS (COVID-19) CONTRIBUTING TO A GLOBAL EFFORT. Co-funded by the European Union, 1-20. https://www.oecd.org/south-east-europe/COVID-19-Crisis-Response-Western-Balkans.pdf
Ristic, Marija., Stojanovic, Milica., Sirotnikova German, Miroslava., Keller-Alant, Akos., Buyuk, Firat Hamdi., Vladisavljevic, Anja., Gascón Barberá, Marcel., Necsutu, Madalin.,
Stojkovski, Bojan. Europe's Other Coronavirus Victim: Information and Data Rights. https://balkaninsight.com/2020/03/24/europes-other-coronavirus-victim-information-and-data-rights/
Stojanovic, Milica., Stojkovski, Bojan., Kajosevic, Samir., Kuloglija, Nermina., Mejdini, Fatjona. Cyber Attacks a Growing Threat to Unprepared Balkan Countries. https://balkaninsight.com/2021/03/10/cyber-attacks-a-growing-threat-to-unprepared-balkan-states/
Stojkovski, Bojan. Hackers Expose Gaping Holes in North Macedonia's IT Systems: https://balkaninsight.com/2020/05/22/hackers-expose-gaping-holes-in-north-macedonias-it-systems/
The Convention for the Protection of Individuals with Regard to Automatic Processing of Personal Data (1981): https://rm.coe.int/1680078b37
The impact of Covid-19 Pandemic on Enterprises in Serbia: Challenges and Expectations. Serbian Association of Employers. Belgrade, 2020. https://drive.google.com/file/d/1nei9dsBV7Jk-cZPEoSEtFuYQGXqOp9Qr/view
Toch, Eran., Bettini, Claudio., Shmueli, Eraz., Radaelli, Laura, Andrea., Lanzi, Andrea., Riboni , Daniele., Lepri, Bruno. (February 2018). "The Privacy Implications of Cyber Security Systems: A Technological Survey". ACM Computing Surveys, Vol.51, No.2, Article 36. pp.1-27. https://www.researchgate.net/publication/323373891_The_Privacy_Implications_of_Cyber_Security_Systems_A_Technological_Survey
Universal Human Rights Declaration (UNDP), 1948. https://www.un.org/en/udhrbook/pdf/udhr_booklet_en_web.pdf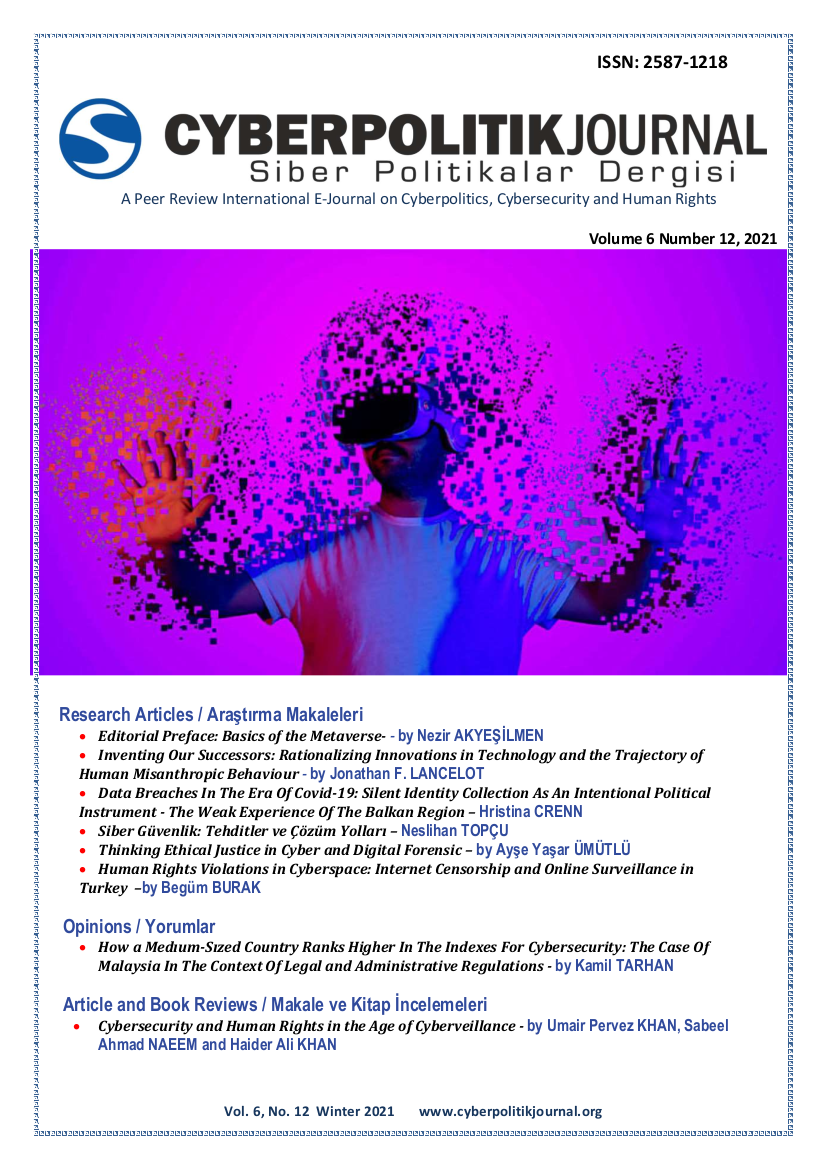 Downloads
How to Cite
CRENN, H. (2022). DATA BREACHES IN THE ERA OF COVID-19: SILENT IDENTITY COLLECTION AS AN INTENTIONAL POLITICAL INSTRUMENT - THE WEAK EXPERIENCE OF THE BALKAN REGION. Cyberpolitik Journal, 6(12), 140-154. Retrieved from http://cyberpolitikjournal.org/index.php/main/article/view/144
Section
Research Articles
License
Copyright (c) 2022 Cyberpolitik Journal
This work is licensed under a Creative Commons Attribution-NonCommercial-ShareAlike 4.0 International License.